September/October 2016
Welcome to this edition of ELA enews.  In this communication we will share upcoming events, resources and communication from NYSED.
---
Denise Pawlewicz and Catie Reeve recently attended the Statewide Professional Development Network for ELA.  Their time spent with other professional development specialists from across the state included reviewing work to date on ELA standard revision.  Here is their summary and top 10 list:
The Revision Process:
72 educators from across the state gathered to begin the standards review and revision process for a total of 7 days in August 2016.
The ELA Statewide Professional Development Network spent two-days peer reviewing the educators' draft work in September 2016.
Feedback survey will be available beginning September 21 and closing Nov 4.

Survey can be accessed here: www.nysed.gov/aimhighny
The feedback will be used to further review and revise the standards
The standards posted on the survey are in draft form, which may not include the recommendations of the ELA Statewide Professional Development Network
Proposed Updates to the ELA Standards:
*Please note that none of these proposed updates are not final until after public comment is provided to and reviewed by NYSED via the survey (linked above).  Your feedback regarding these changes is valued!
P-12 Reading for Information and Reading for Literature are combined for ease of use and curriculum guidance, but still supports reading for both.
Reading standard 10 (range of reading and level of text complexity) has been removed from the standards with the rationale that text complexity provides instructional guidance rather than a learning expectation.
Instructional best practices, like the writing process, are moved to the appendix or preamble instead of being a measured standard.
It is anticipated that the New York State Assessments will remain the same for at least two years.
Performance assessments, with an emphasis on process, remain integral to the standards. 
The standards will most likely have a new name.
The writing standards are reorganized, re-numbered and revised across the grades with the rationale of providing clarity.
There is a new statewide task force for P-2 to study developmentally appropriate practices for early level students with an added emphasis on the importance of play and curiosity in the early grades
There were recommendations made for more consistency in language across the standards (i.e. clarity of redundant or conflicting language).
Educators would still able to use the New York State Learning Standards for curriculum development with very little changes to existing curriculum due to revisions.
Important- The public comment period is open for ELA standards.  Please participate and have your input included!
Upcoming Conferences:
New York State English Council will host a conference in Albany October 19-21.  The title is Literacy: At the Intersection of Story and Information.  Additional information is here
The National Council of Teachers of English hosts the annual convention Nov 17-20 in Atlanta Georgia.  Further information is here.
NYS Reading Association conference is close by in Rochester, NY Nov 13-14.  Read more here.
Literacy for All is the theme for the Northeast PreK-8 Literacy conference and Reading Recovery Institute held Oct 23-25 in Providence, Rhode Island.
Local opportunities sponsored by OCM BOCES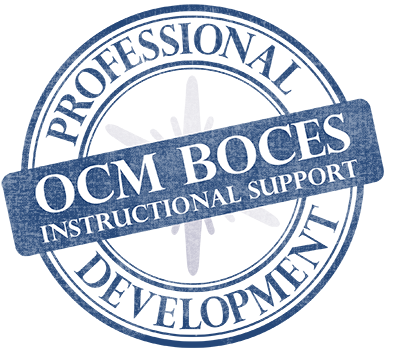 Teaching Them All to Read - Foundations of Literacy
Ever feel like you're not reaching ALL your students' needs or doing ALL that you can in your classroom? Do you have a desire to learn more in order to better provide foundational literacy pieces and how to put them in place to meet the needs of your students? If you answered yes then, join our course: "Teaching Them All to Read/Foundations of Literacy."
These sessions will empower teachers by examining the five essential components of literacy. Our learning sessions will include the what, how and why of the reading foundational skills. Emphasis will be on instruction of phonemic awareness, phonics, fluency, vocabulary, and comprehension. Additionally, spelling and oral language will be explored, demonstrated, and examined. Attention will be given to advance understandings of literacy, reflection on current practices, and how to formulate/adjust new plans of instruction when thinking about children's reading development.
Whether you use a basal or an intervention program, you will leave with a strong foundation on how students acquire critical components towards becoming proficient readers.
This is a series will  meet six times between October and April.  The sessions start October 27.  There is a cost for all participants of $1500.  Registration is here.
October 13
This Literacy Collaborative is an opportunity for K-6 teachers to come together and explore instructional practices and strategies for improving literacy outcomes for all students. Participants will be able to collaborate with and learn from each other, share ideas and best practices and plan for the application of new learning in a supportive environment. If you are a K-6 teacher looking to continuously improve literacy instruction for your students, please join us!
October 25
Are you interested in engaging your students in deeper learning of your content area through literacy-based instruction? If you answered "yes" to this question, please join the 7-12 Literacy Collaborative. Participants will have the opportunity to explore, apply, and share literacy-based instructional strategies that work in any content area.
October 25
Literacy Leadership offers administrators and teacher leaders the tools they can use to plan for a culture of literacy. Planning for literacy with the intent to improve all students' literacy skills involves collaborative leadership and research-based literacy practices. Join Literacy Leadership to learn more about how to lead for literacy.