May 2016
Patrick Shaw
Staff Development Specialist, OCM BOCES – Syracuse, NY
Trainer for Project-Based Learning & Standards-Based Planning
@pshaw63

Joanne Keim
Network Team Coordinator
PBL 101 Trainer
Onondaga-Cortland-Madison BOCES

Denise Pawlewicz
PBL Trainer/Coach
Onondaga-Cortland-Madison BOCES

Randi Downs
PBL Teacher Trainer
Onondaga-Cortland-Madison BOCES
News
Celebrating Public Products and Kids' Voices!
Authentic Public Products make PBL unique!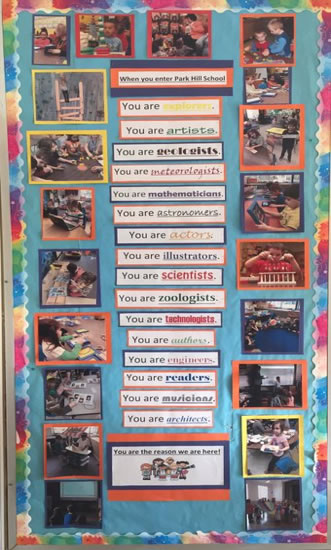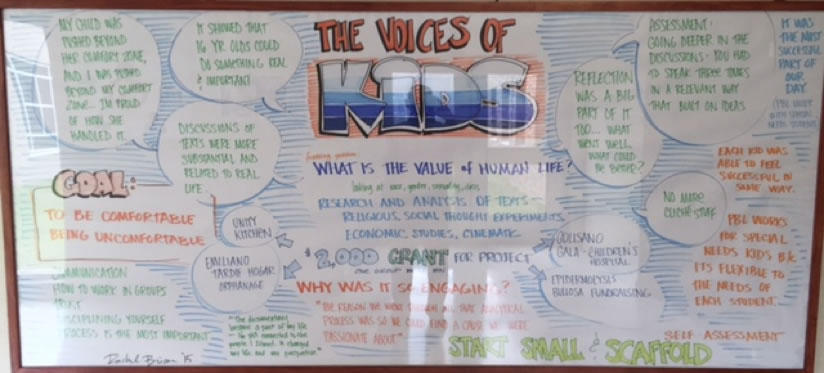 East Syracuse Minoa's Park Hill Pre-K experiences authenticity every day!
Solvay Middle School Students in the 12:1:1 program presented their renovation design ideas to school administrators as part of a PBL unit about the Industrial Revolution!
| | |
| --- | --- |
| Some ideas for the cafeteria renovation | Innovative bathroom remodel presentation |
| Solvay Leadership will present student design ideas to the architects. | Student individual products resulted in Research Bulbs. |
Solvay Elementary Kindergarteners did not understand the district's technology acceptable use document, so they set out to make one of their own! They shared their public product with administration, staff and fellow students!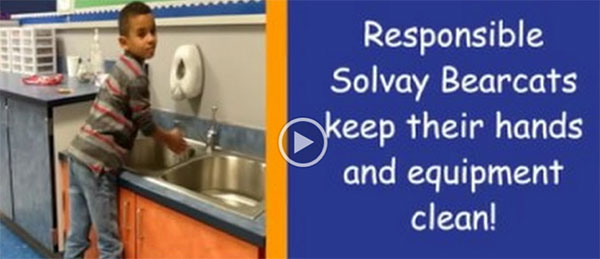 Students from Bob Canorro's Culinary Arts class at OCM BOCES took part in student-led conferences as part of their public product. They presented their dish along with information about the country. They shared how herbs and spices enhanced  their dish from the country they researched!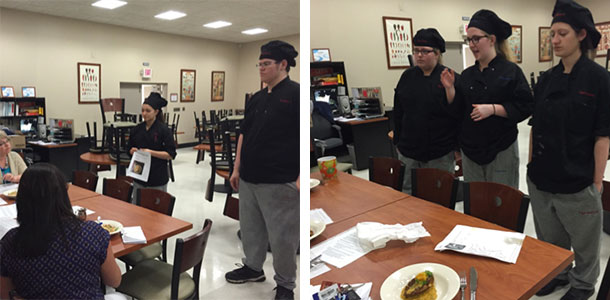 Jamesville-Dewitt Middle School students researched and presented designs for Schools of the Future to administrators, teachers, OCM PBL coaches, as well as businesses from the community!
Want to learn more about PBL?
Register soon so you don't miss this incredible summer conference!
The Buck Institute for Education is teaming up with OCM BOCES to offer a four-day conference on the research-driven success of Project-Based Learning. The one-of-a-kind event embraces the Maker Movement and offers a long list of inspiring speakers and workshops aimed at bolstering your understanding and success with student-centered, inquiry-based learning. Don't miss this chance to connect with fellow educators, renowned experts, and PBL trailblazers for an event guaranteed to spark creativity, collaboration, and innovation in the classroom.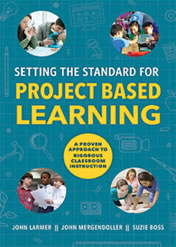 Getting started with PBL? This is a great read!
Published by ASCD and authored by BIE, this complete guide to K-12 Project Based Learning explains the why, what, and how of Gold Standard PBL.
Setting the Standard for Project Based Learning includes a vision of rigorous, high-quality PBL and compelling arguments for its widespread use. The authors explain Essential Project Design Elements, Project Based Teaching Practices, and review the research supporting PBL. Chapters for teachers provide practical, step-by-step guidance on designing and managing projects, and a chapter for school leaders describes how to implement PBL system-wide. Also discussed is the use of PBL in informal learning spaces and summer learning. The book contains sample projects in various grade levels and subject areas.
Digital and Social Media Connections