Sept 2016
Patrick Shaw
Staff Development Specialist, OCM BOCES – Syracuse, NY
Trainer for Project-Based Learning & Standards-Based Planning
@pshaw63

Joanne Keim
Network Team Coordinator
PBL 101 Trainer
Onondaga-Cortland-Madison BOCES

Denise Pawlewicz
PBL Trainer/Coach
Onondaga-Cortland-Madison BOCES

Randi Downs
PBL Teacher Trainer
Onondaga-Cortland-Madison BOCES
PBL Welcome Back Enews!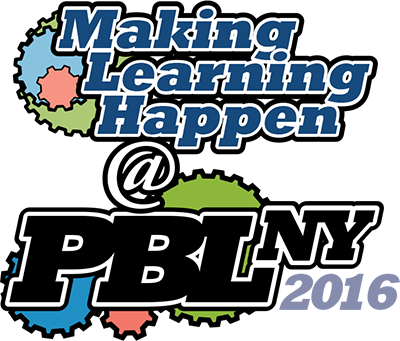 After a busy summer of learning, we here at OCM BOCES would like to welcome back all of our educators to another year as we work together helping kids learn to think deeply and critically! We also would like to share some of the incredible events that went on during the summer months. A definite highlight was our "out of this world" conference celebrating Project Based Learning and the Maker Movement. Educators and innovators from all over the country shared how we can create deep learning opportunities for all students, while teachers from all over the country enjoyed collaborating around student-centered inquiry and instruction.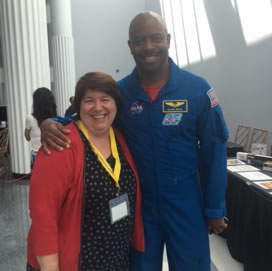 Astronaut Leland Melvin, seen here with our PBL Coordinator, Joanne Keim, spoke of grit and perseverance!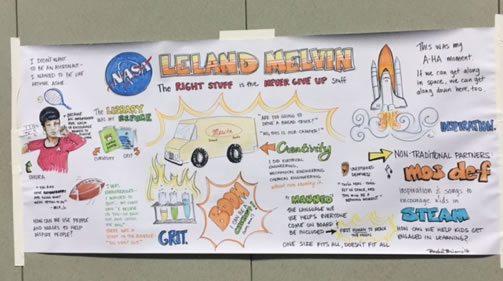 Event art by Rachel Brian
We are also so excited to share that we opened another New Tech Network School, this time in the Cortland area!  The school is named 7 Valleys New Tech Academy and presently teaches 9th and 10th graders from that area. Students here will engage in Project Based Learning experiences all day long, every day!
| | | |
| --- | --- | --- |
| Welcome to our new 7 Valleys facilitators! | Long Island educators dig in to PBL! | Teachers engage in a protocol to learn how they collaborate! |
As always, PBL training is ongoing. This summer, teachers from Oriskany, North Syracuse, Madison-Oneida BOCES, CTE Adult Education, and Nassau County BOCES spent 4 days learning about Gold Standard PBL.
| | |
| --- | --- |
| One of the many PBL trainings we offer here at the OCM Main Campus | Oriskany teachers talk about how we group kids for learning. |
This fall, we are looking forward to even more collaboration around Project Based Learning and what it does for instruction! Whether you are a science or math teacher who wants to check out Problem Based Learning or an educator with a desire to kick PBL instruction up a notch by exploring Gold Standard PBL, we have learning experiences for you here at OCM BOCES! Click here to discover what the catalogue has for you! We are also offering our standard 4-day trainings for elementary and secondary educators.
The learning never stops here at OCM BOCES!
Digital and Social Media Connections