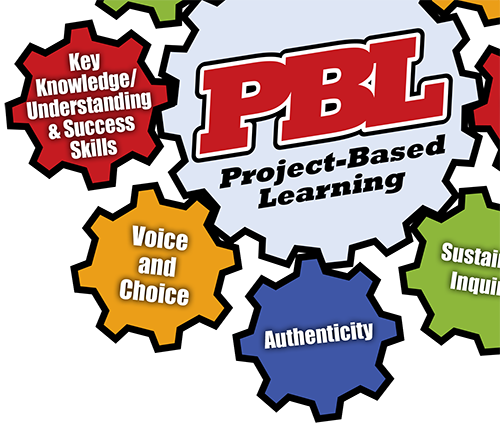 October 2016
Patrick Shaw
Staff Development Specialist,
OCM BOCES – Syracuse, NY
Trainer for Project-Based Learning & Standards-Based Planning
@pshaw63

Joanne Keim
Network Team Coordinator
PBL 101 Trainer
Onondaga-Cortland-Madison BOCES

Denise Pawlewicz
PBL Trainer/Coach
Onondaga-Cortland-Madison BOCES

Randi Downs
PBL Teacher Trainer
Onondaga-Cortland-Madison BOCES
PBL this Fall
The PBL coaches have been out in schools coaching teachers to Gold Standard project success in the following districts: OCM BOCES Student Services, Solvay Innovations, North Syracuse, CiTi BOCES, CiTi BOCES PTECH, Innovation Tech and Seven Valleys New Tech Academy.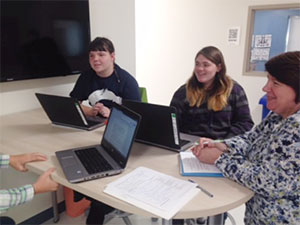 PBL Coach, Joanne Keim, working with students at Seven Valleys New Tech Academy (SVNTA), an OCM BOCES program housed in Cortland, NY, on a project for their EarthCom class (Earth Science and Communications). Students were using Facetime to collaborate with a teammate who was absent from school that day. SVNTA opened in September with 9th and 10th grade students and joins Innovation Tech, an OCM BOCES program housed on our Liverpool campus, with students in grades 9-12, as two of the three New Tech High Schools in New York State. Teachers and administrators can see PBL in action
by visiting Innovation Tech or taking PBL 101 when it is offered at SVNTA:
PBL Coaching for administration/leadership teams is ongoing in Westhill, Trumansburg and OCM BOCES Student Services Career and Technical Education (CTE).
Problem Based Learning (PrBL) was offered regionally for math teachers in a one-day session and later the same week for science teachers in a one-day session. Teachers from Westhill, Baldwinsville, Fulton, FM, West Genesee, Oriskany, Onondaga Central, OCM BOCES Student Services and Chittenango attended the sessions. PrBL is a inquiry-based approach to learning that engages students in solving real-world problems. This instructional framework builds problem-solving skills and disciplinary knowledge and skills in students as they take charge of their own learning in shorter cycles of inquiry than in PBL. PrBL also allows teachers to step back from controlling the learning and become a facilitator of student learning. Additional training will be offered in March, sign up on MLP for PrBL Math and PrBL Science. Read more in this blog from John Larmer of the Buck Institute for Education (BIE).
PBL Resources
Project Based Learning: 7 Ways to Make it Work from ASCD's journal, Educational Leadership.
Edutopia is an excellent resource for blogs, videos and articles about PBL. Read about Shawn Canney's journey into PBL in the article, Learning by Doing: A Teachers Transitions into PBL.
TeachThought is an excellent resource for lists. Peruse this list of 25 Questions to Guide your PBL Planningand find some questions to think about as you plan the next PBL experience for your students.
Finally, there's been a lot of buzz about Shaping Mindsets. Here's a Mind/Shift article on How to Weave Growth Mindset into School Culture. Our PBL team will be offering Shaping Mindsets half-day PD sessions in March in the morning and afternoon. Sign up and learn more about Shaping Student Mindsets.
FREE Professional eBook Library Book Talk
When teachers and administrators ask about the best book to read or use as a book study for PBL, we recommend BIE's book, Setting the Standard for Project Based Learning and the ASCD Study Guide for the book. The gurus at BIE wrote this book to explain how teachers can plan and implement Gold Standard PBL that is engaging, rigorous and authentic for students. The book is free to download, print and listen to in our Professional eBook collection.
Digital and Social Media Connections