August 2016
As the summer winds down and we gear up for the start of the school year, here are some resources for getting the right work done in a PLC.

Harnessing the Collaborative Power of the Four Critical Questions of a PLC
With so many demands on curricular teams these days collaborative time can quickly be sacrificed for coordination tasks such as scheduling events, casual dialogues of best practice, rote test modifications, and adjusting curricular pacing guides, to name a few. This kind of collaboration tends to produce shallow curricular changes, narrow instruction adjustments, non-timely remediation, and superficial assessment modifications. Read this blog and find out how to harness the collaborative power of the four critical questions of a PLC.
Three Tips for Improving Accountability
Communication, cooperation and consequences are the three Cs that support accountability at work. "If you have consistent, open communication in an environment of team cooperation, you won't have to spend as much time with delivering negative consequences," writes blogger S. Chris Edmonds. Read more…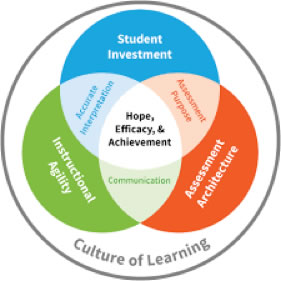 The Most Important Three-Letter Word in Assessment Practice
Think of any group of thirty people whose only commonality is their age. Would it be reasonable to expect that each member of that group has the same ability in mathematics? That they all read at the same level with the same fluency, comprehension, and vocabulary? I think we can readily agree it would be folly to make those broad assumptions. However, this is what teachers routinely do in classrooms. They expect every fourteen-year-old to be able to handle all grade 9 content and behavioral outcomes when clearly this will not be the case. The question really becomes, "How do we know when a student has achieved proficiency in the intended outcomes?" and this can only be responded to based on the evidence gathered from high quality assessment practice—both formative and summative. Read more of Tom Hierk's blog here.
PLC eBooks in our Professional Library
Check out our Professional eBook Library with hundreds of books that are free to download.
How to Make Decisions with Different Kinds of Student Assessment Data
Identifying the critical elements and nuances of assessment data and how that information can best be used to inform improvement efforts in the school or district is an essential for highly effective teams.
Building a Professional Learning Community at Work: A Guide to the First Year
Get a play-by-play guide to implementing PLC concepts. Each chapter begins with a story focused on a particular challenge. A follow-up analysis of the story identifies the good decisions or common mistakes made in relation to that particular scenario. The authors examine the research behind best practice and wrap up each chapter with recommendations and tools you can use in your school.
Learning by Doing: A Handbook for Professional Learning Communities at Work (2nd Edition)
Through continuous work with educators, the authors have created a more powerful, practical resource for moving forward in the PLC process. This book is an action guide for closing the knowing-doing gap and transforming schools into PLCs. It also includes seven major additions that equip educators with essential tools for confronting challenges.
Simplifying Response to Intervention : Four Essential Guiding Principles
The sequel to Pyramid Response to Intervention advocates that a successful RTI model begins by asking the right questions to create a fundamentally effective learning environment for every student. RTI is not a series of implementation steps, but rather a way of thinking. Understand why bureaucratic, paperwork-heavy, compliance-oriented, test-score-driven approaches fail. Then learn how to create a focused RTI model that works.