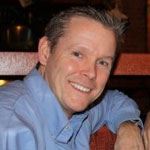 Patrick Shaw
Staff Development Specialist
Curriculum, Instruction & Assessment – OCM BOCES
Certified Trainer for the Responsive Classroom through the Northeast Foundation for Children (NEFC-Turners Falls, MA)
Also trainer for Project-Based Learning & Standard Based Planning
OCM BOCES RC News
June and July have already been a busy time for Responsive Classroom training.  In the beginning of June we completed our 105th group at OCM BOCES which was featured in last month's Enews.  Patrick Shaw, trainer for the Responsive Classroom at OCM BOCES did a couple training for the Center of Responsive Schools, developers of the RC approach for teaching.  His first session in June was a contractual event in Windsor, CA.  The second was an Advertised Institute in Kennett Square, PA.
The first OCM BOCES event was during the week of July 5-8 in Vestal Central School.  This district has been working over the last 2-3 years to get a training in district.  After much work, Vestal became Patrick's 108th group to be trained in the Resposive Classroom Course.  Vestal has already secured a week for training #2 in district for Summer 2017!  Congrats to the newest RCC Graduates from Vestal!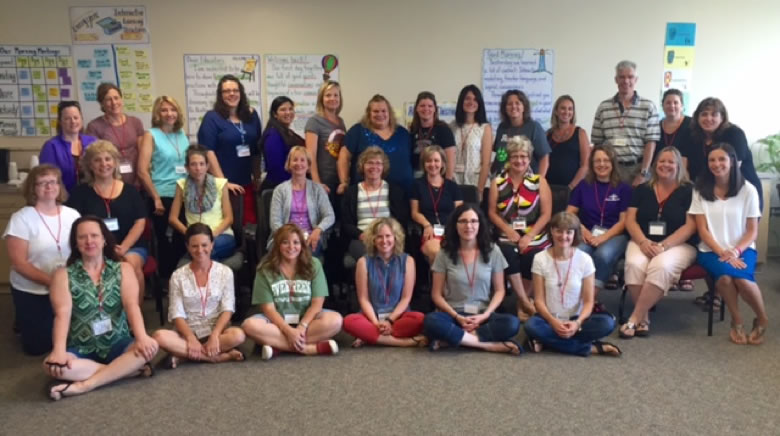 The SUMMER 2016 Sessions of RCC and RCAC are coming up soon!  See the information and links below to register!
Upcoming OCM BOCES Responsive Classroom Institutes
for 2016
Summer 2016 Responsive Classroom

Advanced

Course:
Engaging Academics (formerly RC2) Two-day Module – August 16, 17 at the Cortland District Kauffman Center
For Information & Registration
Summer 2016 Responsive Classroom

Advanced

Course:
Effective Management Two-Day Module – August 18, 19 at the Cortland District Kauffman Center
For Information & Registration
Summer 2016 Responsive Classroom Course (level 1)
4-day – August 23-26, 2016 at the Cortland District Kauffman Center
For Information & Registration
Other Location for Training
Registration may be allowed through their website or contacting them
RCC - July 19-22: St. Lawrence/Lewis BOCES
RCC - August 8-11: Auburn City Schools
Is Your Classroom Organized for Learning?
June 15, 2016 – Center for Responsive Schools

"School's over! As you clean table tops, take down anchor charts, and sort supplies, pause and take a look around your classroom. Will you be leaving a space that worked well for most of the year's learning activities, a space you happily anticipate returning to in the fall? Or did the room seem to somehow get in the way of your teaching and students' learning?

Students spend more time in classrooms than in any other part of the school, so the way these spaces look, feel, and function has a huge impact on how comfortably—and how much—they learn. With the past year fresh in your mind, now is a good time to reflect on what makes any classroom a great space for learning, how well your own classroom worked this year, and what you might do to make it work better…"
Read more
NEW!!! Language Study Sessions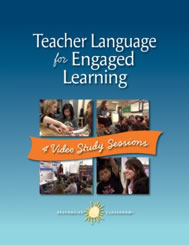 Learn communication strategies that highly effective teachers use to support students' high-level thinking, active participation, and collaboration. This kit includes materials for leading 30-minute professional development sessions on four topics:
Asking Open-Ended Questions
Giving Clear Directions
Giving High-Quality Feedback
Keeping the Focus on Learning
Each session is built around a 10-minute video segment featuring master teachers using positive language with students at a variety of grade levels. Integrated narration names and describes specific positive language strategies to focus on. Step-by-step guidelines for working through each session are included. Perfect for study groups or in-service presentations, coaching individuals, or for independent use.
Learn More
Use Your Summer to Plan Your First Six Weeks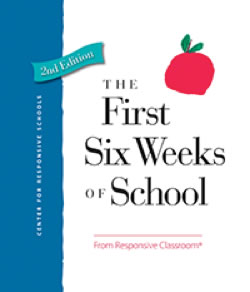 I feel the best gift you can give yourself is to use some time over the summer to either plan on your own or get together with your grade level colleagues to plan out your first six weeks of school.  This old favorite has been majorly revised to fit today's busy classrooms.  Beautiful and in full color!  There are ideas K-2, 3-4, and 5-6 for the first day of school.  Sample schedules to help your plan to make that first day a smooth transition into the school year.  Then learn how to apply all you learned during your Responsive Classroom training to the first six weeks.  This is the perfect resource to help your apply all you learned.

Watch children's learning blossom all year long when you lay the groundwork with the help of this classic, comprehensive guidebook for K–6 teachers. Day by day and week by week, The First Six Weeks of School shows you how to set students up for a year of engaged and productive learning by:
Using positive teacher language to establish high academic and behavioral expectations
Getting students excited about schoolwork by offering engaging academics
Teaching the classroom and academic routines that enable a collaborative learning community to thrive.
Novice teachers will feel as if they have a personal mentor always by their side; veterans will discover new insights and ideas to make their first six weeks even more productive

This is the book that is given to new graduates of The Responsive Classroom Course!
Learn more
Responsive Classroom National Conference
The Center for Responsive Schools has a couple exciting events planned for this fall.  Each year they hold the "Responsive Leadership" conference which I have attended over the year and so have local districts such as ESM and Cortland.  This year, a brand new event has also been scheduled, the "Responsive Teachers" conference.  Both will be held in Washington DC and not too far away from CNY!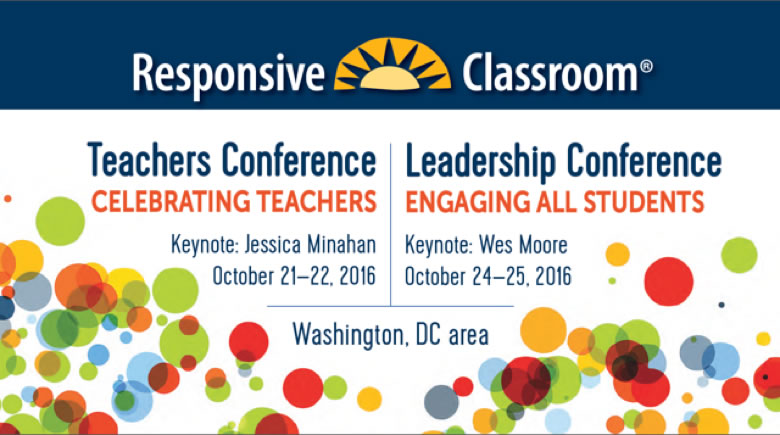 NEW BOOKS!!
"As middle schoolers begin the transition into young adulthood, they have a strong developmental need for learning that's both active (hands-on, experiential) and interactive (social, collaborative). When we meet that need, students are more likely to behave in positive ways and engage more deeply with academics. But how can we build such dynamic learning into the short periods and packed curriculum typical in most middle schools? Motivators—interactive learning structures—are one excellent way…"  READ More...
Please Join The Social Network!!!
OCM-RC Facebook Group!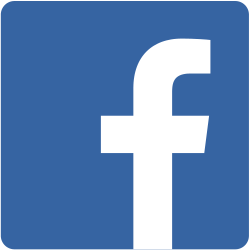 The OCM BOCES Responsive Classroom Blackboard site has been taken down, but a new more ACTIVE and INTERACTIVE group has been added to Facebook!!!   It is my hope the use of the "Closed" OCM-RC Facebook group, will allow former participants a virtual community where ideas can be shared and interactions with each other can continue.  To request access to the group please search OCM-RC
OCM BOCES- Instructional Support!

Join us on Facebook, Twitter, Wordpress (Monthly RC Blog), and sign-up for various other Enews!  Share this link with your colleagues! 
Click here
Archived RC ENEWS
Join the NEFC's and Responsive Classroom's Social Networks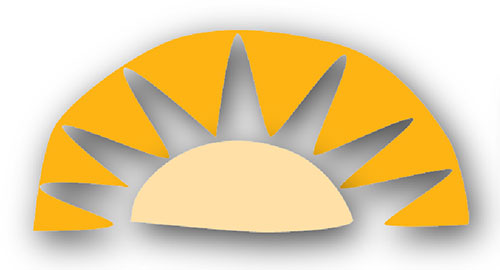 Facebook, Twitter, Blog, Pintrest, YouTube, Newsletter
www.responsiveclassroom.org
Resources
The Center for Responsive Schools' White Papers
© 2016 OCM BOCES Instructional Support. For more information, please contact Patrick Shaw