March 2016
Teaching the Japanese-American Internment during WWII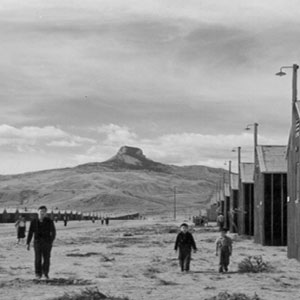 How can we best include this topic in our instruction? On March 22 from 4:00 to 6:00 PM, there will be a free workshop at SUNY Cortland in the Caleion Room, Corey Union. The workshop is in preparation for a visit by Sam Mihara, a Japanese-American who survived internment during WWII. Mr. Mihara will be speaking at several engagements in the Cortland area on April 20 and at the National Council for History Education Conference in Niagara Falls on April 21. This event will be especially valuable for teachers who are interested in using Mr. Mihara's resources or bringing students to a talk. Participants will be able to learn about resources available to enrich their lessons, explore ways to integrate the arts, examine an Inquiry-based lesson plan, discuss ways to make the most of a guest speaker and consider connections to current events. Register through MLP here.
Teacher Workshop on Reconstruction
The House Divided Project at Dickinson College is hosting a free K-12 teacher workshop on Saturday, March 26, 2016 in Carlisle, Pennsylvania. The subject is Reconstruction and attending participants will receive a free signed copy of Eric Foner's book, A Short History of Reconstruction as well as a variety of other educational materials. Featured speakers include Gregory Downs, Matthew Pinsker, and Anne Sarah Rubin. All of the sessions will be designed to help introduce educators to a host of new digital resources on the Reconstruction era. In person attendance at the sessions requires advance registration. But all events will be streaming over YouTube if you don't want to make the drive. Check out all of the information here.
CNYCSS Awards Nominations
The Central New York Council for the Social Studies invites everyone in the social studies community to consider nominating a colleague for one of the Council's Social Studies Educator Awards. The purpose of the awards is to recognize exceptional social studies teachers in Central New York. Nominating a teacher who strives to go above and beyond is a wonderful way to show them that their commitment to teaching and learning has not gone unnoticed. Supporting excellence in the classroom contributes to the professional growth of all teachers! Find more information and direction to nominate a deserving teacher here.
Social Studies Leadership Network Monthly Meetings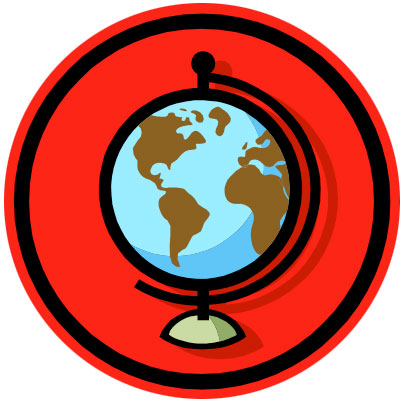 Only two more chances to join our group for the latest information on Social Studies in Central New York and New York State. All are very welcome to attend! Meetings for the rest of the year are scheduled for:
March 24 – Historical Thinking and Disciplinary Literacy
May 19 – Implementing and Scaffolding the Inquiries
All sessions are from 1-3 PM. Register for individual meetings on My Learning Plan.
Social Studies Curriculum Follow-Up Work Sessions for Grades 5-8
If you attended any of the summer 2015 Social Studies Curriculum Work, consider continuing your work during these facilitated session Sign up for a single session or for multiple sessions, as desired. Upcoming dates are:
Social Studies Curriculum Follow-Up Work Sessions - March 22
Social Studies Curriculum Follow-Up Work Sessions - April 19
Social Studies Curriculum Follow-Up Work Sessions - May 17
Registration is through My Learning Plan.
NYSCSS Statewide Convention
Registration is open for the NYSCSS/NYS4A 78th Annual Convention, "Social Studies: Creating Pathways to Success". The convention will take place in Albany from March 31 through April 2, 2016. Deadline for paid registration is March 19. Find more information and register here.
NCSS Professional Learning
If you are an NCSS member (and you should be!!) there are professional development webinars offered on a regular basis. Some are free. Find details and registration information here.
NCHE: National Council for History Education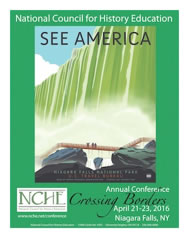 NCHE is holding its national conference "Crossing Borders" in Niagara Falls this year which is just down the road!! This is a high quality conference and a great learning opportunity with a great mix of historians and teachers from around the country. Find more information about the conference here.
Online Resource of the Month: EconEdLink
Economics and Economic Systems is one of the six categories of Social Studies Practices in the NYS Framework and the one that many of us feel the least prepared to incorporate in our classroom instruction. Sponsored by the Council for economic Education, EconEdLink is a source of over 400 free economic and personal finance lesson materials for K-12 teachers and their students. You will need to sign up to access the materials, but registration is free.
Imperative (and Obviously) Inexhaustible Shameless Plug of the Month: The Social Studies Blog
If you haven't yet read the monthly blog that offer thoughts on teaching and learning of all things social studies, you are missing out! It is only one of the excellent blogs that are posted by my colleagues at OCM BOCES Instructional Support. Check out all of the blogs here. My blog is posted here.