January ASCD Top 5 Collection
OCM BOCES Instructional Support provides these selections from ASCD's collection for your use.
View our complete ASCD collection.
Teaching Reading in the Content Areas
Seeks to help educators understand how to teach reading in their respective disciplines, choose the best reading strategies from the vast array available, and positively influence student learning.
Engaging Students with Poverty in Mind
Provides the rationale behind engaging students, generate more ideas, and build the attitudes to succeed with students who live in poverty.
Total Participation Techniques
Techniques are examined in depth and presented in four parts: overview, implementation instructions, student participation, and classroom personalization, with real-world examples and toolkits for all levels of learning.
Rethinking Homework
Covers the debate over whether homework is an essential component of rigorous schooling or a harmful practice. Tells how to avoid the "homework trap" and how to work with parents about homework".
Grading Smarter Not Harder: Assessment Strategies That Motivate Kids and Help Them Learn
Reveals how many of the assessment policies that teachers adopt can actually prove detrimental to student motivation and achievement, and shows educators how they can tailor their policies to help students better understand the lessons that are being taught.
Welcome to
OCM BOCES Instructional Support (IS) Weekly Dispatch. Our intention is to provide a composite of current news and regulatory information rather than an unwieldy stream of forwarded messages. In addition to the Weekly Dispatch, we now offer a number of specialized E-Newsletters centered around our different departments. Sign up for as many as you like, you may unsubscribe at any time.
January 15, 2016
The Bakken Museum via flickr (CC BY-SA 2.0)
This column clarifies growth mindset while describing what is often falsely labeled as growth mindset.
Several districts have had personnel changes during the middle of the year which has prompted the need for emergency Lead Evaluator Training. To meet this need, we've scheduled a special two-day, intensive course for February 25th and 26th. Here's the registration link.
www.iste.org
ISTE has just released the first draft of the new ISTE Standards for Students. They are seeking feedback.
We're getting closer to the adoption of new requirements for K-12 Counseling Plans. Board of Regents action is imminent. A special session has been planned to help districts get started with the implementation of the new planning model, based on the National Model form ASCA. Trained BOCES facilitators will work with designated leadership pairs from districts (one administrator and the district's counselor leader) to launch and support the new process.
This infographic compares being a good citizen, in general, with being a good digital citizen. It makes the connections in plain, simple language.
The Center for Innovative Science Education has one more "Draft Party" at which time you can take a facilitated look at the draft of new Science Standards. The party is January 20, 2016 at the Science Center, 3:30-5:30 pm.
Centers aren't just for elementary classrooms. Centers work at all ages and are a great way to differentiate and offer choice. Read about some middle-level examples.
A well-designed, project-based class is a naturally differentiated class. This article explains this.
PBL 101
1/20, 1/21
McEvoy 701
2/3, 2/4, 2/10, 2/11
O & M
3/1, 3/2, 3/8, 3/9
McEvoy 701
3/14, 3/15, 3/21, 3/22
O & M
5/11, 5/12, 5/18, 5/19
Main Campus Canandaigua Room
PBL training dates for next year have been scheduled (a new cohort starts nearly every month). The next cohort begins February 2nd in Syracuse. After that, another cohort begins March 1st in Cortland.
Project-Based Learning prepares students for their future jobs more than a traditional approach. This column explains.
The Authentic Assessment Academy is an opportunity for teams of teachers to explore best practices in assessment design. Authentic and performance, and standards-based assessments will be emphasized. Another cohort begins soon.
Here's a short list of things an assistant principal can do to support the school and its leader. It may not be a complete list, but it is a start to a job description.
An encore performance has been scheduled for the Teacher's Literacy Toolbox Series: Reading, Writing and Research in a Common Core Classroom. By the end of this three-session series, participants will fill their "literacy toolbox" with strategies to help their students with close reading, writing from evidence, and research.
The Responsive Classroom Winter Institute is an interactive, highly practical 28-hour entry-level training course. It gives classroom and special area teachers everything needed to start using core Responsive Classroom teaching practices.
Image
Many educational resources boast remarkable claims. This guide will help you sort through the false claims and be a better consumer of textbooks, programs, and packaged programs.
This is the teal (and final) LLI segment. LLI is a powerful, research-based supplementary intervention program (RTI Tier 2 & 3).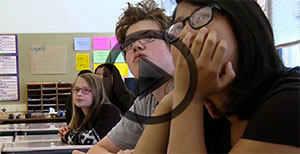 One math teacher takes a different approach to grading tests, with built-in opportunities for students to demonstrate what they can do. Watch the video.
Two workshops are scheduled to help you wrestle with the impact of poverty (and what we can do in our classrooms):
Background information based on work of Payne, Jensen, Budge and Parrott will be explored at the session: Students from Generational Poverty. This will extend educators' understanding of the possible impacts poverty may have on educational attainment and assist educators to expand their understanding of challenges, strengths and implications. It is January 25th.
Jensen's findings and suggestions will be incorporated with Hattie, McRel, Budge, and Parrott research to highlight specific moves and decisions teachers may make in their instructional design to support students from generational poverty. This session is February 10th.
We use questionnaires and surveys all the time in our work. This guide can help you with the construction of effective tools.
edsource.org
California is considering the replacement of their reliance on state test scores for district and school accountability with a dashboard of multipole measures.
Leadership Networks meet several times during the year in order to provide the latest information and build content-specific leadership expertise in our districts. Upcoming sessions include:
This article explains the opt-out/refusal strategy in the future.