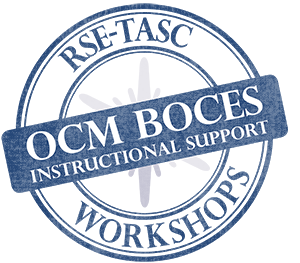 The RSE-TASC offers a wide variety of workshops at NO COST to school districts.
Click here for a printable list of all 2016-17 workshops and to register!
Click here for a listing of all 2016-17 workshops and to register!
Register Now!
January 2017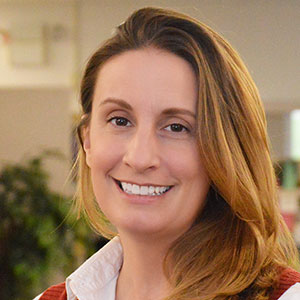 Mid-State Regional Special Education Technical Assistance Support Center (RSE-TASC) at OCM BOCES is one of ten technical assistance centers across NYS funded through an NYSED federal grant. The RSE-TASC provides regional workshops to districts in OCM BOCES, TST BOCES, Cayuga-Onondaga BOCES, CiTi and the Syracuse City School District free of charge. Workshops include topics on behavior, transition, nondistrict programming, special education regulation, and special education service delivery.

The Special Education Enews is a collaborative project that is shared amongst the regional trainers at the Mid-State RSE TASC. The intent of the Enews is to assist districts and educational programs in meeting the needs of all students by providing information and resources that encompass each of the specialty areas within the RSE TASC. I encourage you to forward our Special Education eNews to teachers, support staff, administrators, and anyone else you feel may benefit from the information.

To sign-up for this and other OCM BOCES Enews offerings click here.

Please contact me at jpayette@ocmboces.org to request additional topics of interest, comments or feedback.

Janel Payette
---
SAVE THE DATE!
TRANSITION CONFERENCE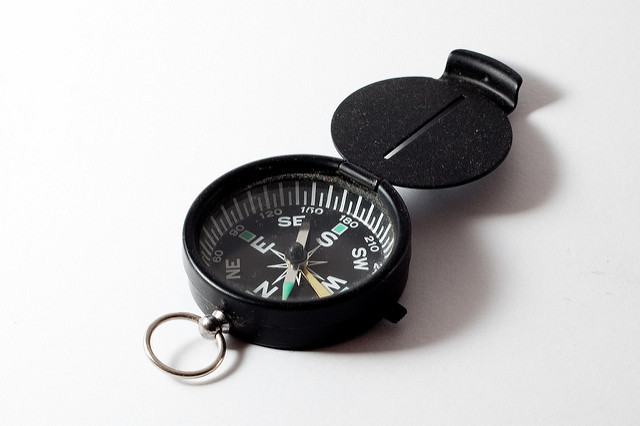 FINDING
YOUR
WAY!
UNDERSTANDING TRANSITION PLANNING IN AND AFTER HIGH SCHOOL
A Free Conference for Students with Disabilities, Families, & Educators
Monday, March 13, 2017
Onondaga Community College
Keynote
Informational Sessions
Vendor & Resource Fair
Giveaways
Lunch is Provided
CTLE credits available
Questions?
Contact SUPAC at
315-443-4336 or
supac@syr.edu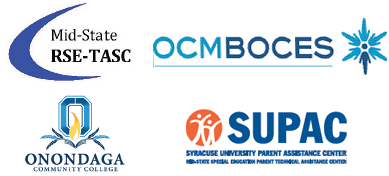 Special Education Blog

Image CC Laura Blankenship
That's a Wrap!!
As we wrap up the old year and get ready for the new let's take a moment to reflect on a few of the insights from our special education bloggers this past year. 
Special Education Service Delivery
'Tis the Season for IEP Writing!  Annual reviews are quickly approaching, so it is time to revisit one of the biggest struggles when writing IEPS…MEASURABLE ANNUAL GOALS!
Just a few reminders when writing goals:
Skill based goals – NOT CURRICULUM
Must be measurable – Can you see it, count it, document it?
3 to 5 measurable annual goals across ALL disciplines
One skill per goal
Which skill is the student's priority area?
If there is a goal, there should be a corresponding need identified in the Present Levels!
You should be able to progress monitor the skill all year long!
No part of the goal needs to indicate "Over 10 months,"

This is implied by the fact that it is a measurable annual goal!

Criteria – How well does the student need to perform skill?
Criteria Period – Once they reach their criteria (level), how long do they need to maintain it?
Method – What is the tool we will use to progress monitor?
Schedule – When are we collecting the data?
Finally, need some progress monitoring tools?  Check out this awesome, fantastic and FREE website!
Transition and CDOS
Student Exit Summary for New York State Alternate Assessment Students
The IEP diploma was replaced by the Skills and Achievement Commencement Credential and the Career Development and Occupational Studies (CDOS) Commencement Credential beginning in the 2013-2014 school year.  Both credentials require a student exit summary (SES) as a required piece of documentation. 
The SES for the CDOS Commencement Credential remains the same as it was in the past.  It contains a summary of the student's academic achievement and functional performance, which includes recommendations on how to assist the student in meeting his or her postsecondary goals.
The SES for the Skills and Achievement Commencement Credential is more comprehensive.  Because of this, the teacher must be familiar with it, and must be sure to plan adequately to ensure that it is completed diligently and with thoughtful consideration.
Part I of the NYSAA SES encompasses:  
Student's skills, strengths and interests
Community/Work-Based Learning Experiences
Academic Performance as measured by NYSSA in the areas of:

English Language Arts
Math
Social Studies
Science
Part II: Ranks students on their level of independence around the Career Development and Occupational Studies (CDOS) Standards in the areas of:
Career Development
Integrated Learning
Universal Foundation Skills
Part III:  Recommendations to assist the student to meet their Post-Secondary Goals in the areas of:
Education/training
Employment
Independent Living
Accommodations, Assistive technology/Adaptive Equipment
Environmental Supports
Further Skills Development
Adult Agency Referrals/Contacts
The Student Exit Summary should be completed during the final year of high school, but must be completed and provided to the student prior to the school exit.  Teaching the student how to use this as a tool is the key piece.
For more information on the Skills and Achievement Commencement Credential, please visit:
Behavior
Over the course of this year, we have shared classroom management strategies at the Tier 1 level (behavior management practices for all students). Typically these practices work for 80 – 90% of students; however, it is important for schools to have a readily available intervention for those students who need more time and encouragement to meet the expected behaviors.
A Social Academic Instructional Group (SAIG) is a Tier II practice that is used to provide an additional dose of teaching. It also provides an opportunity to increase the depth at which school wide expectations are taught for small groups of students. The groups are formed directly from behavioral data that is analyzed on a regular basis. The behavioral data identifies which students would benefit from this intervention as well as what skills need to be taught within which group (i.e. if data shows that a group of students have x number of discipline referrals for peer conflict, perhaps a group might be formed that focuses on problem-solving skills).
The focus of this practice is for students to attend SAIG a pre-designated number of times per week to learn or to be re-taught specific behavioral skills that align with the school-wide expectations. Students attend groups with other students of similar need, know exactly what skill(s) they are working on, and learn how to use each skill within the natural setting of where they are expected to occur.
The skills that are being learned in the group are identified on a daily progress report (DPR) that students carry with them throughout the day. Students receive specific feedback from their teachers about how they are progressing toward demonstrating those skills after each class/subject. When implemented with fidelity, this intervention is an effective strategy to use with students, including students with disabilities, who have struggled to consistently meet the school-wide expectations.
Special Topics
Recently the US Department of Education Weekly Digest Bulletin contained information on helping students involved in the criminal justice system transition back to school.  It includes downloadable resources for both students and teachers.  The tool kit includes effective practices for transition that might be helpful in not only transitioning students from the justice system back to school, but also might be applicable to transitioning students from alternative educational programs back to their home school district.  View these resources here.
Preschool Behavior
January is prime time for classroom behavior challenges in the preschool setting!  As students return from holiday break, it can feel like September all over again!  The "Stop-Go Game", from the folks at TACSEI, is a great, fun way to reinforce program wide expectations and class wide rules with preschool students.  Access the file here.
Leadership
The Council for Exceptional Children has posted some information and consideration of homeless youth with disabilities.  Click here to learn about legislation, identification and activities for teachers and administrators to support this group of students.
---