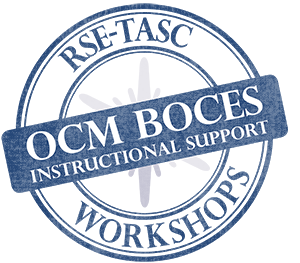 The RSE-TASC offers a wide variety of workshops at NO COST to school districts.
Click here for a printable list of all 2016-17 workshops and to register!
Click here for a listing of all 2016-17 workshops and to register!
Register Now!
February 2017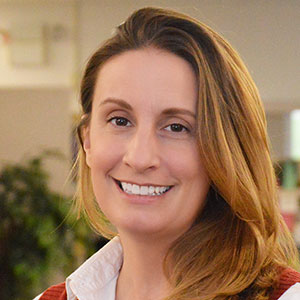 Mid-State Regional Special Education Technical Assistance Support Center (RSE-TASC) at OCM BOCES is one of ten technical assistance centers across NYS funded through an NYSED federal grant. The RSE-TASC provides regional workshops to districts in OCM BOCES, TST BOCES, Cayuga-Onondaga BOCES, CiTi and the Syracuse City School District free of charge. Workshops include topics on behavior, transition, nondistrict programming, special education regulation, and special education service delivery.

The Special Education Enews is a collaborative project that is shared amongst the regional trainers at the Mid-State RSE TASC. The intent of the Enews is to assist districts and educational programs in meeting the needs of all students by providing information and resources that encompass each of the specialty areas within the RSE TASC. I encourage you to forward our Special Education eNews to teachers, support staff, administrators, and anyone else you feel may benefit from the information.

To sign-up for this and other OCM BOCES Enews offerings click here.

Please contact me at jpayette@ocmboces.org to request additional topics of interest, comments or feedback.

Janel Payette
---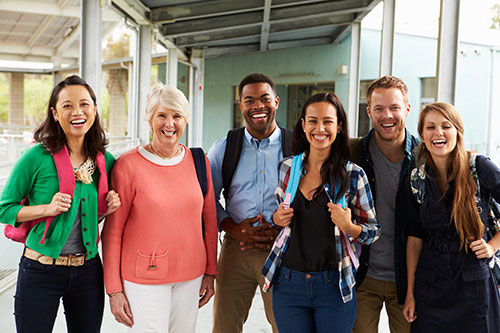 The RSE TASC is Sponsoring some Exciting Events in March!
Finding Your Way: Understanding Transition Planning in and after High School
March 13th - No Cost
An educational day around transition planning. Food will be provided! an exciting opportunity for families, professionals, and students to learn about planning for life after high school and the services offered in their community.
---
Building our Student Support Systems through Cultural Responsiveness
March 7th & 24th - No Cost
This series addresses building support systems for students through a Culturally Responsive (CR) lens by examining:
what it means to be culturally responsive;
providing a reflective framework for districts/schools to shift beliefs, policies and practices that are cultural responsive that support students and their families;
employing CRE practices in Response to Intervention (RtI), and
developing an action plan that systemically builds on CRE. 

---
PBIS Regional Forum
March 9th - No Cost
Learn how trauma affects an individual and strategies that can be incorporated to increase sensitivity to these needs. In addition, the session will provide an overview of SEL (Social Emotional Learning) and an framework that schools might use to address student's emotional learning needs.
---
Standards-Based IEPs
March 17th - No Cost
Standards-Based IEPS? What is it? What am I changing when I write IEPs? This full day training will define standards-based IEPs and the background behind the concept. Participants will review NYSED memos and the afternoon will focus on the 7 steps on how to create a standards-based IEP. Participants will:
define standards-based IEPs
explain why districts should write standards-based IEPs
identify the steps for writing standards-based IEPs
There will be time to discuss and plan for implementation.

Special Education Blog
Read this month's blog by RSE TASC transition specialist, Patty Ordway-Bennett, entitled, Will the real "I" Please stand up? Clarifying the "I" in the Individualized Education Program?
Special Education Service Delivery
As annual reviews are quickly approaching, I wanted to quickly review each part of the IEP. Last month, we addressed measurable annual goals. This month the focus will be on Present Levels of Performance (PLPs)!!!! PLPS are the foundation on the IEP! I often get teachers that state that measurable annual goals are the most difficult aspect of the IEP to write, but I would argue it is the present levels of performance!
Quick Reminders
Present Levels are the justification for all of the recommendations! Everything should be linked back to the PLPs! (IEP Alignment)
Data must be included in the present levels.
"Jimmy struggles with writing" ….how do you know? What data do you have to support that claim? Did you look at the student's writing samples?
DATA = Classroom Performance
What can the child currently do? What does that struggle with?
Address the areas in which the disability impacts the child.
Be specific.
No jargon, vague language or OPINIONS!
Reference grade level expectations and compare them to current ability level.
Identify the student's academic strengths, social strengths and physical strengths.
Identify the student's academic needs, social needs and physical needs. NOT RECOMMENDATIONS, but SKILL NEEDS.
Here are some guiding question to help you write your PLPS
What are the student's unique needs that result from his or her disability?
What is it that the student can and cannot do at this time?
What are the student's strengths in this area?
How do these needs affect the student's participation and progress in the general curriculum or, for a preschool student, participation in age-appropriate activities?
What are the parents' concerns for the education of their child?
What instructional and/or behavioral supports or services have been effective or not effective in addressing the need area in the past year?
SED created quality indicators that identify the "must-haves" for each section of the IEP. This is an excellent resource to remind you of what needs to be written in each section!
Transition and CDOS
If independence is the ultimate end goal for students, perhaps assistive technology can help us achieve this outcome? We need to shift and expand our thinking about how we choose and use assistive technology to match our end goal. Think about the many students who require tests to be read to them due to significant reading decoding or reading comprehension deficits. This is just one of the many examples of how assistive technology could help our students to become more independent. After all, there will not be an adult following our students around to read difficult text to them. Instead, let's find some assistive technology that can support our students with their reading difficulties, in school and after. To help with this process, the NYS Education Department put out a webinar as well as the checklist to help determine what type of assistive technology best meets the needs of a student. In order to receive a weekly "Assistive Technology Item of the Week" from Finger Lakes Independence Center sent to you, email Rachel Ferrara, MSW at Rachel@fliconline.org.
Behavior
Over the course of this year, we have shared classroom management strategies at the Tier 1 level (behavior management practices for all students). Tier 1 practices are typically effective for 80-90% of students; however, it is important for schools to have readily available interventions within their systems for those students who need an additional dose of teaching and reinforcement in order to meet the school-wide expectations.
A School-Based Mentoring program is a Tier II practice that is used to provide students that additional dose of reinforcement as well as consistent, positive contact with a staff member. Research shows that effective mentoring programs have positive outcomes such as improvements in grades, parent-child relationships, attendance, overall attitudes about school, and a student's sense of belonging in school. Research also shows that, with mentoring, classroom disruptions are less likely and there is an increase in the likelihood and frequency of classroom engagement (Mentoring Resource Center (MRC) U.S. Department of Education. Office of Safe and Drug-Free Schools No. 24, September 2008).
Mentoring would benefit students who meet some or many of the criteria listed below.
Rewards and consequences appear to be ineffective
Appears to lack self-esteem or self-confidence
Lacks positive adult role models
Appears to not like school
Chronic absenteeism (not truancy)
One or more significant risk factors for not graduating on time
Parent/teacher/student referral
For more detailed information on research-informed practices for creating and sustaining effective mentoring relationships and strong program services, see this great mentoring resource!
Special Topics
Are you trying to embrace a Growth Mindset? Are you trying to create a Culture of Change and help your students shift from a Fixed Mindset to a more Growth Mindset? Train Ugly is a website that can help! Train Ugly was created by Trevor Ragan. Trevor has a BA in Sociology from Duke University. He was (and is) a student athlete, coach, and entrepreneur. He has created and compiled a wide variety of videos, articles, blogs and tools around learning and mindsets. There is also a Grow Mindset Play Book that provides step by step ideas for changing mindsets.
Preschool Behavior
In preschool, and particularly within the Pyramid Model, we often talk about needing to foster nurturing and responsive relationships with students. I often hear "we know we need to be nice to kids, we don't need training on that." I find that it is typically true that we know we have to be nice to kids, but do we really know why? We rarely have time to discuss the physiological impact of toxic stress and unresponsive care on brain architecture and development. Harvard University's Center on the Developing Child has developed a series of training materials to look at the significant impact of toxic stress upon development. This series of videos is an outstanding resource for folks like me, looking to understand the science of early relationships.
Leadership
Do you want to make sure your special education staff understands the difference between research-based and evidence based practices? These research excerpts and activity may be just the thing you need to begin the conversation at your next meeting.
---