June 2016
News
An updated draft of the New York State P-12 Science Learning Standards (NYSSLS) was given to the Board of Regents, for consideration on Monday. The updated draft NYSSLS included only a few minor changes from the draft released in November 2015. A summary of a proposed implementation plan and changes to state science exam is include in the Regents agenda item. These standards are based on the Framework for K-12 Science Education as well as the NGSS.  A comparison document, illustrating the similarities and difference between the NYSSLS and the NGSS can be found on our web site.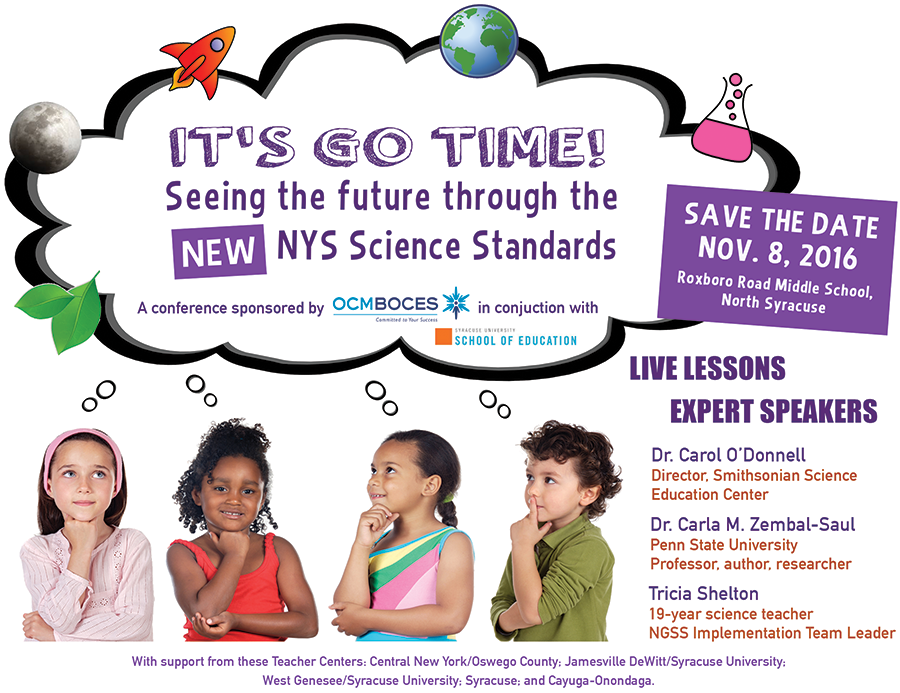 Save the date: It's Go Time:  Seeing the future through the New NYS Science Standards will be hosted by OCM BOCES in collaboration with Syracuse University School of Education at Roxboro Middle School on November 8, 2016. The conference will include three nationally recognized science educators as well as live research lessons aligned to the NYSSLS. More information as well as registration will come in the near future.
The American Museum of Natural History in collaboration with BSCD and the K-12 Alliance at WestEnd, with funding from the Carnegie Corporation has developed a set of five tools to support planning units that aligned to the NGSS.
As articulated in the Framework, the new science standards are for all students. To learn more about science for all students take the time to read this short article from a recent Science and Children, written by members of the NGSS Equity and Diversity Team. If you are interested in learning more about supporting science learning opportunities for all students consider reading NGSS for All Students.
As the end of the year cleaning begins please remember proper chemical management, storage, and disposal. The DEC has some helpful school chemical management guidelines.
Early career teachers should consider applying for the NSTA New Teacher Academy. Applications are due August 5, 2016.
If you are looking for some summer science reading you might want to consider some of NSTA's best sellers or award winners.