July 2016
News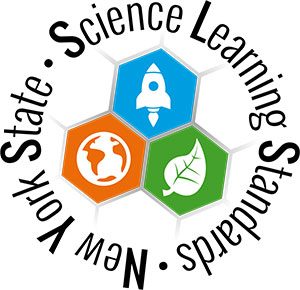 As the impending New York State P-12 Science Learning Standards (NYSSLS) are based on the Next Generation Science Standards (NGSS), see this quick summary of the NGSS for a brief overview of the new standards. This is good graphic describing why our students need to experience learning designed around these standards. For a brief overview of the vision of the new standards and each of the three dimensions watch these videos from Achieve.
Looking for some ideas about how to improve STEM instruction and move towards instructional strategies aligned with the NYSSLS and NGSS? The NSF funded STEM Teaching Tools project has an abundance of resources. Tools for Ambitions Science Teaching also provides examples and instructional tools aligned to the new standards. Middle and high school teacher interested in beginning to transition their instruction to align with the new standards can start with some sample task aligned to the NGSS.
Read these first-hand teacher accounts explaining transitioning instructional practices aligned to the NGSS. Watch Tricia Shelton discuss her experiences transitioning her instruction.
This summary document for principals outlines the main conceptual and instructional shifts in the new science standards. The Instructional Leadership for Science Practices project, which seeks to support instructional leaders, provides many usable resources for principals and instructional leaders.
Save the date for a dynamic science conference focused on the new science standards! Registration for It's Go Time: Seeing the Future Through the NEW NYS Science Standards will open in mid August.