June 06, 2016
I can't believe it's June already! It always seems like there's still so much to do and so little time. We are in the process of planning summer workships as well as the Fall Conference. One of the most successful parts of last year's conference were the "Learning from Each Other" sessions. You are all doing amazing things and hope you consider putting in a proposal to present at the conference. The deadline for the proposals is July 31st. We also want to highlight opportunities for workshops this summer:
Union Update
As we continue preparing for our roll out of the new union catalog, we need your assistance making sure the tansition goes as smoothly as possible. We are hoping to begin pulling your MARC record extractions the week of June 20th. Please let us know if you have added any subject headings to a 650 field. We will need to move that specific 650 field to a local subject heading (690), in order for that field to be maintained after the highlevel conversion. If you are a non-Mandarin school your live data will not be affected, so you no action is required.
All schools should complete our Google Form in order to assist with the conversion. This is where you will let us know about the particulars of your collection. Prior to June 20th please be sure to do all of your cleanups so we are not bringing over holding records in a deleted status.
Please checkout our promotional materials for our myON pilot on Google Drive. The folder includes a form letter to parents, how to add a new student, as well as cards and labels to print with student logon information. You can view an archived version of one of our webinar's on our YouTube Channel.
Several of our schools use appoinment slots in Google Calendar to schedule their labs and equipment. Watch this video to learn how to set it up for your library!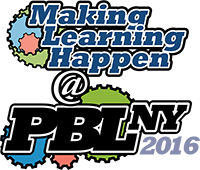 Are you interested in attending "Making Learning Happen at PBLNY 2016?" Registration is open! The dates are August 2-5 and the lineup of speakers and workshops is "out of this world!" Conference grants are available through SLS for attendance.
Interested in being a purchaser for our OverDrive digital collection? Please let Allie know via email. We will set you up with a logon for the OverDrive Marketplace to build your cart for your specific grade range starting July 1. Next year we will also be looking for volunteers to assist us with curating our OverDrive homepage. Please let Allie know if you would like to assist with this!
Many of you are familiar with Mary Ratzer's work. She held a workshop at SSL this year that expanded on her Think Tank Library. The link above gives you access to her handouts for that workshop. The first PDF listed is from "22 Brain Strategies to Make your Library or Classroom a Think Tank Today." These are all concepts that we have discussed in our workshops but it is nice to have them listed all in one place. Take a peek!
Information on the 2016 Carol A. Kearney Educational Leadership Institute is now available. The institute will take place on July 28th-29th and the theme is School Librarians: Getting Back to the Book. This is the first year that the institute is being held on a Thursday and Friday. Conference grants are available through SLS for attendance.
Do you have preschool aged children in your building? The Imagination Library has partner with the Literacy Coalition of Onondaga County to expand its coverage area to all of Onondaga County. Imagination Library is a free, early literacy program that delivers to children age birth to five a new, age-appropriate book in the mail each month.
Don't forget to check out the CNYSL website to find out about all the local events to increase your opportunities to be part of this wonderful professional learning community! Remember that they are currently accepting nominations for the "Super Librarian Award" also. Nominate a colleague today!