September 12, 2016
Welcome back to an exciting new school year. For those of you who migrated to M5 or to Insignia, the first week certainly meant working through a lot of issues! We hope that most are resolved and that your experience is improving. Please continue to let us know if you need any additional training as your automation systems should make your jobs easier so that you can concentrate on the most important part of yoru job: working with your students!

As we continue to transition MediaConnect to SLS from the CNYRIC, we become even more excited about integrating the Media with the Online Resources that we offer through SLS! If you have new faculty members that need to be added please let us know and we'll get them in ASAP.
Special Announcement
The MyOn Reader pilot was extremely successful this summer! We had students from 53 of our schools participate. Over the course of the summer 45,823 books were opened and 23,581 books were finished. This resulted in students reading for 5980 hours during their summer vacation. The top grades that had the most readers were 2nd, 4th, and 7th. Due to the overwhelming success, MyOn has agreed to extend the pilot until December 20, 2016! If you did not have the opportunity to introduce your students in June, please do so this fall. Let your teachers know too. The summer program was all about pleasure reading so now we will be planning a day in the fall for a full PD on how to use the classroom management side to use MyOn as an instructional tool also!
From the Desk of Andrea Viscusi:
Hello! My name is Andrea Viscusi, and I am new here at OCM BOCES SLS! I am a graduate of ESM (a long time ago, it seems!), and I did my undergraduate degree in Psychology at SUNY Oswego and my MLIS at the University of Buffalo. After a few detours I am happy to have landed here in the SLS department working with media and Overdrive. I am very excited to be joining this department and to be working to support all of you amazing librarians! In the coming weeks as I learn and adjust to this new chapter, please feel free to contact me if there is anything I can do to help you! I look forward to working with you all!
I'm also excited to be your contact for the physical collection of primary resources, DVD's and kits that you find when searching MediaConnect! It is a nice collection, with materials to fit a variety of needs. Looking for information on the history New York State? We have several primary source document collections, ranging from advertisements and letters, background information, timelines and reading lists. A nice overview of the Erie Canal provides maps, original prices and distances, as well as histories from people at that time. Looking for DVD's? We have quite the collection, including titles that you know and love like School House Rock! with classic songs like "I'm Just a Bill," "Conjunction Junction," and "Shot Heard 'Round the World," just to name a few! I encourage you all to take advantage of the collection, and if you have any questions, give us a shout!
From the desk of Marina Machado:
Hello everyone! I am very excited to be joining the SLS team. After 2 years as a Library Media Specialist at St Mary's Academy in Baldwinsville, I already know what a great group of people you all are! As a Systems Consultant, I am available to help you with any Instructional Technology needs you might have. Starting on October 1st, our Mobil Maker labs will be available to you. I know many of you are looking forward to borrowing them. Feel free to contact me via email at mmachado@ocmboces.org or call me at 315-431-8479, with any questions you might have. I'm looking forward to visiting your libraries to make, play and learn with you and your students!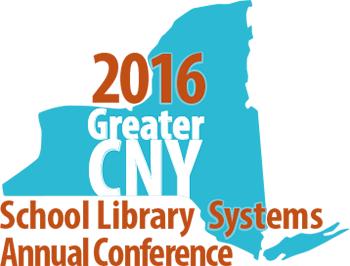 Quick reminder: Registration for the
2016 Greater CNY School Library Systems Fall Conference is open and ready for you to register.
Please consider attending the NYLA-SSL-AASL Workshop: ESSA's Impact on NYS School Librarians
Saturday, October 1, 2016
1:00 PM - 4:00 PM
NYLA Office, Guilderland, NY
AASL, along with ALA's Office for Library Advocacy (OLA), will provide a comprehensive workshop on ESSA*, building off of the two sessions presented at ALA Annual. The content will include:
a section from ALA's Washington Office, giving the most current information on developments at the Federal Level
recommendations of what you can see at the state level
working through the sections of ESSA that can be directly linked to the school librarian/library program
connecting ESSA language to school librarian's role
hands on small group work in identifying stakeholders, building coalitions, message crafting and elevator speech development
This session is available FREE of charge, but pre-registration is required. NYLA Membership is NOT required.
Gumdrop Books is again offering it's Faculty Review service. All you need to do is schedule a day that works for you and they will show up set up book displays on the topics you request. Your faculty can then browse books and help you select titles that match their curricular and instructional needs. Gumdrop even provides lunch and snacks for you and your faculty. Contact Jim Hopper at Jim817@gumdropbooks.com if you would like to learn more.
CNYSL has an upcoming event that we want to highlight! The Book Cafe is back by popular demand. How does it work? You bring in a new book from picture book to young adult fiction to juvenile series to nonfiction favorite. You will share a bit about why you liked that book. At the end of the night all the books will be on display and everyone will walk away with a new book or more! For you or for your library! Registration: bit.ly/bookcafe2016