November 28, 2016
I hope you had a wonderful Thanksgiving and that you take some time this holiday season to enjoy time with your family and friends. Several years ago I had the students in my school library really think about the spirit of the season and had them blog about their classmates. They wrote such loving and caring messages about one another and truly celebrated the uniquemness of each of their classmates. It is one of the activities that I'll always cherish as I know that it made such a amazing difference for some of our students to read the kind things that their classmates were saying about them. While we should celebrate kindness all year, this is the season where we should intentionally show our appreciation and recognize that we really can and do make a difference in the lives of our students. I recently read a twitter post that said "Be the adult you needed when you were a child." It resonated with me and hope it does with all you also.
From the Desk of Mary Ann:
Here are a few ideas for sources of Large Print (LP) books and Books-on CD when they are not available through school-to-school ILL or EILL:
The TBBL has Large Print books available for loan - that's the - NYS TALKING BOOK & BRAILLE LIBRARY. All Libraries should have a login and password to use to search the TBBL catalog. The phone number to contact School and Youth Services is 800-342-3688 or you can email them at tbblkids@mail.nysed.gov.
For LP material you can contact the RESOURCE CENTER FOR VISUALLY IMPAIRED (a NYS Resource Center) - Vocational and Educational Services for individuals with disabilities:

Contact info:
New York State School for the Blind
2A Richmond Avenue
Batavia, NY 14020
Telephone Number: (585)343-5384, ext. 205 or 340
Toll Free Number: 1-877-NYSSFTB (1-877-697-7382)
Program Services Fax Number: (585)344-7026
Web Site: www.p12.nysed.gov

If you have any questions about these services or resources, contact me!
From the Desk of Andrea Viscusi:
I just wanted to let you all know that the
Trials webpage
on the website has been updated to include any current trails we have. This page will be updated as the trials expire (if they do). Just a reminder, the "trials" page is password protected, but if you don't have that,
shoot me an email
and let me know! Some of the trials do require you to enter your own email and password, but anything else has the usernames and passwords right there on the website for you.
Another reminder, I am now the contact person for any OverDrive issues, as well as MediaConnect. If you need anything regarding these services, please feel free to shoot me an email! I am happy to help and answer your questions to get you what you need! I hope everyone had a happy and safe Thanksgiving!
Do you and your teachers use Elie Wiesel's "Night" to help students learn about the Holocaust? If so invite them to join you at our December 12th workshop presented by Echoes & Reflections.
Did you know that Epic! is free for all elementary librarians and teachers? With an Epic! for Educators account you and your students will have access to thousands of high quality, popular eBooks for K-5.
Please take a few minutes to read "Evaluating Information: The Cornerstone of Civic Online Reasoning" This is a new release by Sam Wineburg and the Stanford History Education Group.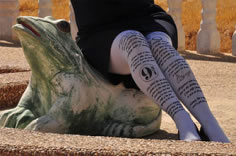 A "Just for Fun" idea for the holiday season! Check out these tights! What a fun gift idea for that book lover in your family.
Remember that we are Organizational Members of NYLA which means that you can join as an associate member for only $75. For more information, contact Doreen.
Don't forget about the Google Hangout "Tech to the Rescue" sponsored by CNYSL on December 5th! One of my favorite Twitter peeps, Richard Byrne (@freetechforteachers) is participating.