December 12, 2016
I know that you all knee-deep in deciding on resources for the 2017-18 school year. If you need any assistance or desire any trials that are not on the trials webpage, please let us know and we'll get them set up for you. We are still in the process of putting together our Database Advisory Committees to begin looking at bundling our products for the 2018-19 school year. If you would like to serve on one of those committees, please contact your district Communication Coordinator and they will send you the link to sign up. We also want to remind everyone that we are continually adding new books to OverDrive so don't forget to pop in every now and then and check out the new titles!
From the Desk of Andrea Viscusi:
Happy Winter!
I hope you all are enjoying your school year! I just wanted to thank everyone that has been using OverDrive, and requesting titles to add to our collection! We've been pushing several carts through, and we have a few more to go! It's a wonderful service and I'm glad to see so many schools taking advantage of it. We've been making carts based on student recommendations and patron driven acquisitions to better serve you and your students. I'm including some links that have great resources for bringing OverDrive to your students:
From the Desk of Marina:
I hope your students enjoyed the Hour of Code last week. There were so many great free resources to choose from this year! I had the pleasure of visiting Durgee Junior High to help the students use the Mobile Maker Labs in the Library. They had a lot of fun exploring the different technology tools. Some students even had the opportunity to Skype with a former alumnus that now works for Google. The students asked great questions and learned about what it's like to be a computer scientist. Thank you, Lindsay Cesari for the opportunity to take part in your Computer Science Week events.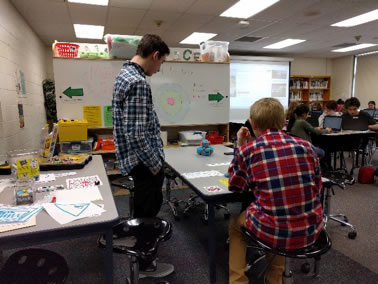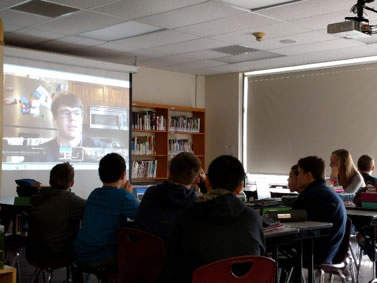 I created a Schoology class in order to share pictures, videos and best practices. Please join and share what you are doing with the Mobile Maker Labs or anything special you did for the Hour of Code. The access code for the class is
Q3VXZ-QZDQ2.
Thank you to everyone who filled out the Mobile Maker Lab evaluation form. If you borrowed a kit and have not had the opportunity to fill out the form, please click
here
. Several people have requested training on the tools in the kits and how to best incorporate their use. Please remember that I am available to come out and walk you through all the gadgets and brainstorm ideas. I am also holding a Mobile Maker Inquiry Lab on January 11, 2017. Go to the My Learning Plan page
here
for details.
Image:
heavy.com
Bloxels, Osmos, K'Nex, oh my! Check out the Top 15 Best STEM Toys for Christmas 2016.
We recommend this webinar that features Todd Nesloney, author of "Kids Deserve It!" Our Mentors Across Borders program participants are currently reading the book together.
Have you looked at all the AASL Awards/Grants/Scholarship opportunities? The deadlines for most are February 1, 2017.
Check out Amanda MacGregor's (@CiteSomething) Favorite YA Books of 2016. How many would be on your list?
So, personally I think there should be a moratorium of 50 years before a children's or YA book can become a movie but the trend is that the ink is hardly dry before it happens. This article shares the books that are being transformed for the big screen in 2017 & 2018.
AASL's  new standards and guidelines are scheduled for launch at the AASL's 2017 National Conference & Exhibition in Phoenix, AZ.
If you haven't yet read this blog post, Dear Dav Pilkey, by Pernille Ripp you really should! It pays perfect homage to the fact that all kids can be readers if only you can connect them with the right book.
Some more "Just for Fun" gift ideas for those book lovers who have everything: