February 27, 2017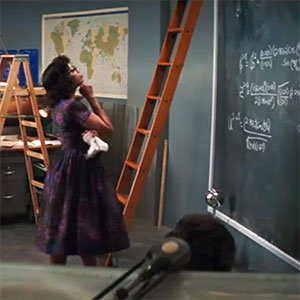 I took the SLS team to see the movie "Hidden Figures" and I began to reflect on how school librarians are the hidden figures behind the success of our teachers and students. You teach students to be critical thinkers and evaluators of information and you help them become involved citizens. You teach them how to ask not only good questions but the right questions so they experience success and make informed decisions in both their academic and personal pursuits. You share your knowledge and expertise by choosing, procuring, and providing access to a wide range of resources, both print and digital that are used every single day in your school buildings. You assist students and faculty members in locating and analyzing those resources to build new knowledge and to efficiently and effectively create lesson and unit plans, media projects, student portfolios and inquiry projects. You put the right book in the right hands when a little bibliotherapy is needed. You are on the front lines of digital citizenship as you help students make good choices and stay safe online. You help your administrators, teachers and students become ethical users of information as you help them with copyright and provide instruction on how to avoid plagiarism.  You are all too often not recognized for your contributions to the success of your students and faculty members but you continue each day to make an incredible amount of difference in their lives and influence their success through your hard work and dedication. You are truly the "hidden figures" behind much of what happens across the classrooms in your district and you do it so effectively and efficiently and without a lot of recognition. So as I reflect I want to say thank you for all that you do and to promise that I will continue to celebrate what you do and advocate for you each and every day!
From the Desk of Andrea Viscusi:
Happy February! There is an amazing feature in Discovery Education, a wonderful resource in mediaCONNECT, that I wanted to tell you all about. If you ever wanted to create a collection of resources for your students without the hassle of creating accounts for each one, we have a solution! If you are using Discovery Education, there is a feature called "Assignment builder." With this feature, you can create a place to collect videos, collections, etc. and compile them all in one place for easy access. The best part of this is once the assignment is completed, students can access the resource without an account. They simply need a code created for the 'assignment', and their name. No login or password needed. It is user friendly, and the students will only see what you want them to, with no distractions! If you have time, check it out. It might be just what you're looking for!
Do you have a supportive administrator or a teacher that you would nominate as a strong supporter of your library program? The best way to tell them how much you appreciate their support is to nominate them for one of our Administrator/Advocate of the Year Awards.  Nominations are now open and the deadline is April 14, 2017.
Check out this blog post from author Melissa Stewart about responsibly adding photos to student work, "Choosing Photos for Nonfiction Projects."
Google Tip
To avoid accidentally closing Google Chrome tabs you frequently need, right click on the tab and select 'pin tab'.
Events
PBS LEARNINGMEDIA 101
March 16, 2017
Start the new year off right by adding to your digital toolkit! Discover how PBS Learning Media and its collection of over 120K curriculum-aligned resources can be used to create meaningful learning experiences for your students.
Register Now
DIGITAL STORYTELLING WITH STOP MOTION ANIMATION
March 22, 2017
Learn how digital storytelling tools like stop motion animation can help strengthen students' research, writing, and collaboration skills while allowing them to flex their creative muscles.
Register Now