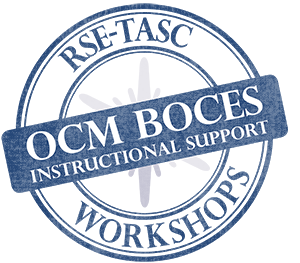 The RSE-TASC offers a wide variety of workshops at NO COST to school districts.
Click here for a printable list of all 2016-17 workshops and to register!
Click here for a listing of all 2016-17 workshops and to register!
Register Now!
March 2017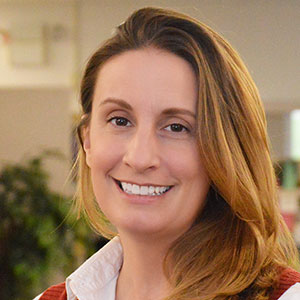 Mid-State Regional Special Education Technical Assistance Support Center (RSE-TASC) at OCM BOCES is one of ten technical assistance centers across NYS funded through an NYSED federal grant. The RSE-TASC provides regional workshops to districts in OCM BOCES, TST BOCES, Cayuga-Onondaga BOCES, CiTi and the Syracuse City School District free of charge. Workshops include topics on behavior, transition, nondistrict programming, special education regulation, and special education service delivery.

The Special Education Enews is a collaborative project that is shared amongst the regional trainers at the Mid-State RSE TASC. The intent of the Enews is to assist districts and educational programs in meeting the needs of all students by providing information and resources that encompass each of the specialty areas within the RSE TASC. I encourage you to forward our Special Education eNews to teachers, support staff, administrators, and anyone else you feel may benefit from the information.

Sign-up for this and other OCM BOCES Enews offerings.

Please contact me at jpayette@ocmboces.org to request additional topics of interest, comments or feedback.

Janel Payette
---
Special Education Blog
Read our newest blog entitled, Why are we Still Suspending Students?
NYSED News and Notes
Special Education Service Delivery
Did you just finish writing all of those IEP Drafts?  Or are you just starting?  One compliance issue that seems to be popping up is IEP Alignment. When you have finished writing your drafts, go back through and make sure you have connections across your IEP.  For example, you can't have a measurable annual goal without there being a skill need. 
Here's a quick example:
Behavior goal = behavior skill need = behavior information & data in the PLPs
What we wouldn't want to see is a behavior goal and no information in the present levels of performance regarding behavior. 
What must connect to Present Levels of Performance?  ALL OF THE RECOMMENDATIONS IN THE IEP!! Program Modification, Testing Accommodations, Measurable Annual Goals, Assistive Technology and Service Recommendations should all be justified and connected back to the Present Levels.  Revisit the Guide to the Quality IEP to learn about what goes into the present levels of performance. 
Think about mapping out your IEP like this: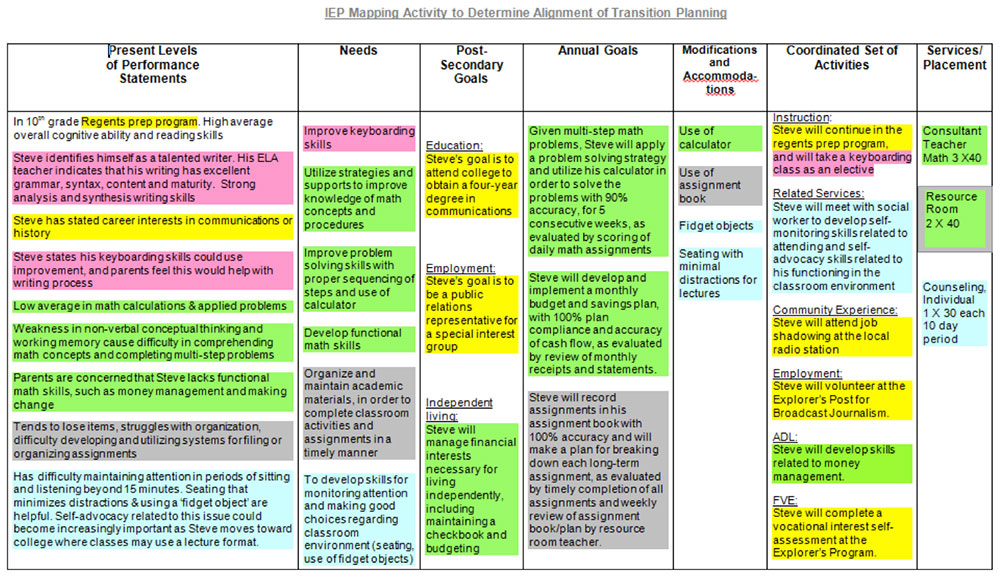 Take a look at the colors and see how they are connected across the template!  This is what you want your IEPS to look like!
Transition and CDOS
With the end of the school year fast approaching, this is the time to complete that final checklist for students who are preparing to graduate/exit from your schools to determine if they have everything in place.  It's also the time to look at students not yet ready to graduate to make sure they are on track. Here is a quick checklist:
If you have questions, please do not hesitate to contact your transition specialist at the RSE-TASC.
Special Topics
Which came first, the chicken or the egg?  Do your students struggle with reading because they have behavioral problems or do your students struggle with behavior because they have reading problems?  It can be very challenging to determine which scenario is the case.  We know that many of our students with EBD also struggle with reading.  Doing a functional analysis of the behavior may give you some insights.  Erica Lembke has written an article exploring this topic.  Her article, Students with Reading and Behavioral Needs, explores four teaching practices/strategies to help students improve their reading and behavior.  Three of the four are evidence based practices. These include:
Peer Assisted Learning Strategies has an effect size ranging from .50-.80. 
Direct Instruction has an effect size of .60
Progress Monitoring has effect sizes ranging from .94-1.18 when curriculum based measurements were used in reading skills (fluency, decoding, and comprehension).
The final strategy she discusses is Opportunity to Respond (or student engagement).  While there are many strategies to increase students' opportunities to respond, improved overall student engagement is an outcome of using evidence based practices.  Consider how you might incorporate more evidence based practices to improve your students reading and behavior.
Preschool Behavior
I am always excited to see new projects involving the Pyramid Model in practice, but this project takes the proverbial cake!  In this timely release, the U.S. Department of Education provides a fact sheet about the Pyramid Equity Project (PEP).  The PEP is focused on addressing the identified gender and racial disparities related to the use of suspension and expulsion in preschool programs across the nation. 
The PEP is "developing tools, materials, and procedures to explicitly address implicit bias, implement culturally responsive practices, and use data systems to understand potential discipline equity issues through the implementation of the Pyramid Model for Promoting the Social Emotional Competence of Infants and Young Children" (Fox, Dunlap, Hemmeter, Joseph, & Strain, 2003). I can't wait to see the impact of this project on our youngest learners!
---